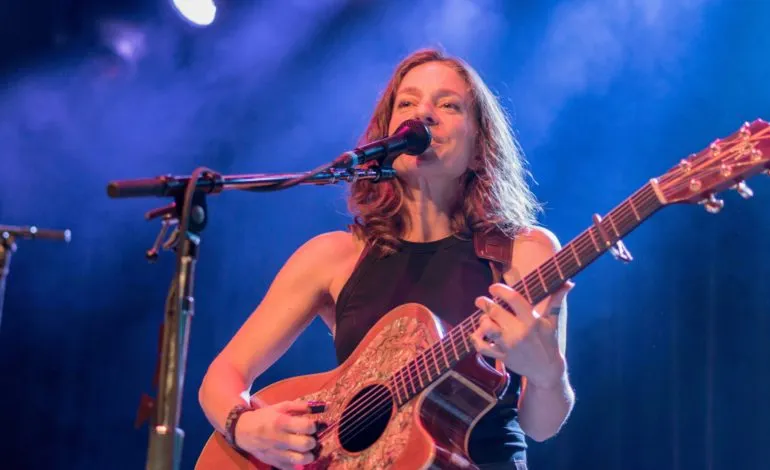 Ani DiFranco is a feminist icon who has been making music for over 25 years. She got her start in the early 1990s, and has since won multiple awards and sold millions of records. This biography will take a look at her early life, career, and everything that she has accomplished in the music industry.
All Country & Folk Events
Total: 12
Temple Theatre - WI
—
Viroqua

,

WI
Get Tickets
Started at $100
Englert Theatre
—
Iowa City

,

IA
Get Tickets
Started at $77
RCU Theatre - Pablo Center at the Confluence
—
Eau Claire

,

WI
Get Tickets
Started at $88
The Blue Note - MO
—
Columbia

,

MO
Get Tickets
Started at $52
KEMBA Live!
—
Columbus

,

OH
Get Tickets
Started at $60
Point of the Bluff Vineyards
—
Hammondsport

,

NY
Get Tickets
Started at $77
Waterville Opera House
—
Waterville

,

ME
Get Tickets
Started at $78
Flynn Center for the Performing Arts
—
Burlington

,

VT
Get Tickets
Started at $77
Tarrytown Music Hall
—
Tarrytown

,

NY
Get Tickets
Started at $73
Le Poisson Rouge - NY
—
New York

,

NY
Get Tickets
Started at $209
The Cabot - Cabot Performing Arts Center
—
Beverly

,

MA
Get Tickets
Started at $128
Riot Fest: Foo Fighters, The Postal Service & The Cure - 3 Day Pass
Douglass Park
—
Chicago

,

IL
Get Tickets
Started at $368
Buyer Guarantee
Same tickets as you ordered, or better

Tickets will arrive before the event

Tickets will be valid for entry

Refunds for canceled events
Read Our Full Guarantee
About Ani DiFranco
Early Life and Education
Ani DiFranco was born in Buffalo, New York, to parents who had both been artists. Her mother, Elizabeth "Betsy" Levy, was a jazz singer and painter. Her father, Dante Americo DiFranco, was a poet and an abstract expressionist painter. Betsy's family was Jewish; Dante's family was Catholic. Ani grew up with her sister Maria in a bohemian atmosphere.
As a child, Ani learned to play the piano and the guitar. She started writing songs at the age of nine. When she was fourteen years old, she dropped out of high school to pursue a music career full-time (a decision that caused much friction with her parents). She began touring the country, coffeehouses, and small clubs.
DiFranco's music has been classified as both folk-rock and alternative rock, although she has stated that she does not like to be pigeonholed into any one genre. She is known for her use of unconventional meters, often mixing together four-, five- and six-beat patterns. Her lyrics often focus on social issues such as abortion, sexism, and racism. DiFranco has also released several albums of politically charged material. In 1998, DiFranco won the Grammy Award for Best Contemporary Folk Album for her album Living in Clip.
Career
DiFranco began her career at the age of 18 when she was living in New York City. She started playing guitar and writing songs when she was 14 years old. When she was 16, she started performing in clubs in Greenwich Village. One of these performances caught the attention of a representative from Righteous Babe Records, who offered to sign her to the label. DiFranco released her self-titled debut album in 1990 when she was 19 years old. The album received positive reviews from critics, and The New York Times called it "a surprising and mature debut."
DiFranco's second album, Not a Pretty Girl, was released in 1991. The album tackled themes of sexism and sexual violence and received mixed reviews from critics. However, it was a commercial success, selling over 100,000 copies. In 1992, DiFranco toured with folk singer Natalie Merchant. The two artists became friends and collaborators; they would later tour together again in 1993 and 1995.
In 1994, DiFranco released her third album, Out of Range. The album was another critical and commercial success; it peaked at #32 on the Billboard 200 chart and was nominated for a Grammy Award for Best Alternative Music Album. DiFranco continued to tour extensively throughout the 1990s, performing over 200 shows per year.
In 1998, DiFranco released her fourth album, Little Plastic Castle. The album was her most personal and introspective to date; it dealt with themes of growing up, love, and betrayal. The album was another critical and commercial success, peaking at #21 on the Billboard 200 chart.
In 2000, DiFranco released her fifth album, Revelling/Reckoning. The double album was a departure from her previous work; it featured more politically charged lyrics and a more experimental musical style. The album received mixed reviews from critics but was another commercial success, selling over 400,000 copies.
DiFranco has continued to release new music regularly since 2000, she has released 14 albums in total.
Music Style and Influences
Ani DiFranco is a singer-songwriter and guitarist who is widely considered a pioneer of the indie music scene. She is known for her confessional lyrics and political activism. DiFranco's musical style has been described as folk-rock, alternative rock, and punk jazz. Her music is often personal, dealing with themes of love, sex, relationships, feminism, and social injustice.
DiFranco has cited Bob Dylan, Joni Mitchell, Miles Davis, The Clash, Annette Peacock, Nina Simone, Prince, and Neil Young as influences on her music. In an interview with Guitar World magazine, she said "I was really into Joni Mitchell and Bob Dylan – they were my two main songwriting influences – but I also loved jazz and listened to a lot of Miles Davis."
Awards and Nominations
DiFranco has won numerous awards throughout her career. In 1998, she won the Best Folk Album Grammy Award for Living in Clip. She has been nominated for several other Grammy Awards including Best Female Rock Vocal Performance and Best Contemporary Folk Album. In 2007, DiFranco was inducted into the Rochester Music Hall of Fame. In 2011, she received the John Lennon Songwriting Prize for "Life Boat". DiFranco has also been honored with several Amnesty International Awards including the Ambassador of Conscience Award in 2006 and the Humanitarian Award in 2014.
In 2012, DiFranco received the Woman of Courage Award from the National Organization for Women. In 2015, Di Franco was awarded an honorary doctorate degree from Syracuse University.
Personal Life
DiFranco married Mike Napolitano, her former producer, in 1997. The couple have one child together, Dante Gabrielle DiFranco-Napolitano, who was born on September 18, 2006. They divorced amicably in January 2013. In 2016, Di Franco entered into a relationship with Todd Sickafoose, an American musician best known for his work with Ani Difranco and Tiny Vipers.
On March 27th, 2020, Di Franco announced that she was pregnant with her second child. She is due in September 2020.
Di Franco is a vegan and has been since 1990. She is also an outspoken feminist and supporter of LGBT rights. In 2004, she founded the Righteous Babe Foundation, a non-profit organization that provides financial and emotional support to female musicians, artists, and activists.
Ani Di Franco is one of the most iconic and respected musicians of our time. Her music has inspired millions of people around the world and her commitment to social justice is an inspiration to us all.