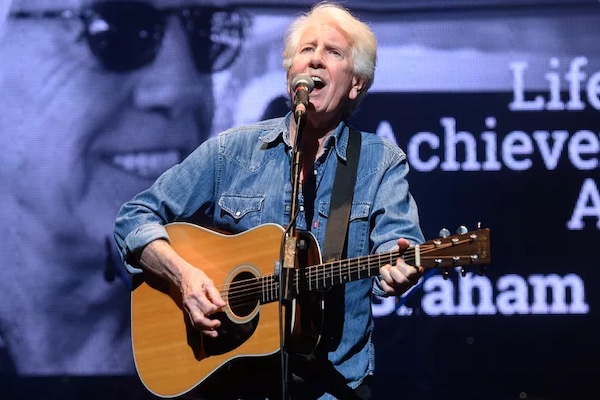 Graham William Nash OBE (born 2 February 1942) is an English-American singer-songwriter and musician. Nash was inducted into the Rock and Roll Hall of Fame as a member of Crosby, Stills, Nash & Young in 1997 and as a member of The Hollies in 2010. He was also inducted into the Songwriters Hall of Fame in 2002. Nash became an American citizen at the height of the Vietnam War protest movement.
All Country & Folk Events
Buyer Guarantee
Same tickets as you ordered, or better

Tickets will arrive before the event

Tickets will be valid for entry

Refunds for canceled events
Read Our Full Guarantee
About Graham Nash
Personal Life
Nash was born on 2 February 1942 in Blackpool, Lancashire, England. His mother, Mary Rose (née Lyon), was a working-class woman of Irish Catholic descent who had been evacuated to Blackpool from the Wigan area during the Second World War. In the early 1960s, he attended Blackpool Grammar School, where he formed The Hollies in 1962 with Allan Clarke, while they were both still at school. Nash was quick to develop a distinctive high-pitched, clear voice, which contrasted with the group's existing vocalist Allan Clarke, who generally sang in a lower register.
Nash was married to Rose Eccles from 1964 to 1966. Nash married Susan Sennett in 1977; they divorced in 2016. In 2019, he married artist, Amy Grantham. He has three children, all of whom are adults.
Career
Nash was a founding member of The Hollies, one of the leading British groups of the 1960s and 1970s. Nash initially served as the group's lead guitarist before becoming their lead singer-songwriter in early 1966 when Allan Clarke decided to focus on being the group's lead vocalist instead. With Nash on lead vocals, The Hollies became one of the biggest British bands of the 1960s and early 1970s. Nash left the Hollies in 1968 to form the supergroup Crosby, Stills & Nash with David Crosby and Stephen Stills. The trio released their self-titled debut album in 1969 which peaked at number 6 on the Billboard 200.
In 1972, Nash teamed with Crosby, forming a successful duo called Crosby & Nash. The duo released three studio albums between 1972 and 2016: Graham Nash David Crosby (1972), Wind on the Water (1975), and Crosby & Nash (2004).
Nash's solo career started in 1971 with the release of Songs for Beginners, which peaked at number 35 on the Billboard 200. His second album, Wild Tales, was released in 1974 and reached number 18 on the chart. Nash continued to record and release solo albums throughout the 1970s and 1980s, including Earth & Sky (1980) and Innocent Eyes (1986). His most recent solo album, This Path Tonight, was released in 2016. Nash has been inducted into the Rock and Roll Hall of Fame twice, once as a member of the Hollies and again as a member of Crosby, Stills & Nash.
Discography
Songs for Beginners (28 May 1971)
Wild Tales (2 January 1974)
Earth & Sky (15 February 1980)
Innocent Eyes (27 March 1986)
Songs for Survivors (30 April 2002)
This Path Tonight (15 April 2016)
Photography Career
Began exploring in the mid-1960s. His work has been featured in several exhibitions and he has published four photography books: Eye to Eye: Photographs by Graham Nash (1981). Nash decided to sell his photographs and donate the proceeds to the Los Angeles County Museum of Art.