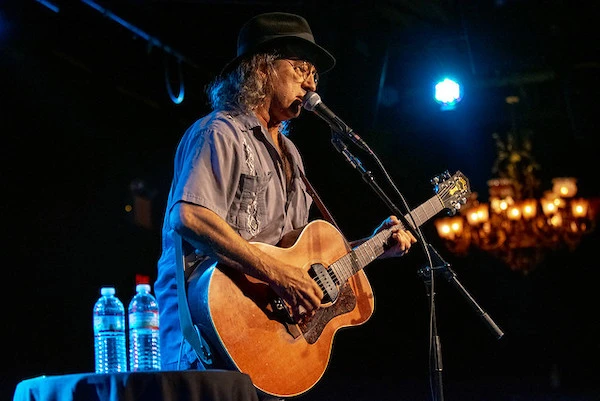 James McMurtry is an American singer-songwriter and musician. McMurtry's musical style is often described as alternative country, Americana, or roots rock. Born in Fort Worth, Texas, McMurtry is the son of writer Larry McMurtry, his mother, an English professor. He was exposed to music from a young age and began playing guitar when he was 7 years old.
All Country & Folk Events
Total: 4
Tulips FTW
—
Fort Worth

,

TX
Get Tickets
Started at $46
The Moon
—
Tallahassee

,

FL
Get Tickets
Started at $48
3rd & Lindsley
—
Nashville

,

TN
Get Tickets
Started at $46
3rd & Lindsley
—
Nashville

,

TN
Get Tickets
Started at $46
Buyer Guarantee
Same tickets as you ordered, or better

Tickets will arrive before the event

Tickets will be valid for entry

Refunds for canceled events
Read Our Full Guarantee
About James McMurtry
Personal Life
Bret lived in Fort Worth for the first seven years of his life and began his education at Leesburg Elementary School. In high school, he attended Woodberry Forest High School in Virginia. He began performing as a teenager, composing ditties. When he studied English and Spanish at the University of Arizona in Tucson, he began performing his own material at a downtown beer garden. After a trip to Alaska and several performances, he returned to Texas. He went to San Antonio, where he worked as a house painter, actor, and bartender, and occasionally sang at writers' nights and open mics.
Career
In 1989, McMurtry released his first album, Too Long in the Wasteland, on Columbia Records. The album featured eleven singles: "Painted by Numbers", "Terry", "Shining Eyes" and others. The album reached number 125 on the Billboard 200 chart. Following his initial success, Larry McMurtry released additional albums including Candyland (1992) and Where'd You Hide the Body (1995). In 1997, he recorded the album Had to Happen on Sugar Hill Records. In 1998, James McMurtry released his album Walk Between the Raindrops, which was an instant classic. In 2005, McMurtry released Childish Things on Compadre Records. The album reached number 23 on the Americana Music Chart and won the 2006 Americana Music Award for Album of the Year. In 2008, McMurtry released Just Us Kids on Lightning Rod Records. The album debuted at number 1 on the Billboard Heatseekers chart and number 2 on the Top Country Albums chart. In 2015, McMurtry released his album Complicated Game on Complicated Game Records. The album peaked at number 4 on the Billboard Folk Albums and number 1 on the Billboard Heatseekers chart. In 2021 McMurtry released his latest album The Horses and the Hounds on New West Records.
Discography
Too Long in the Wasteland (1989)
Candyland (1992)
Where'd You Hide the Body (1995)
It Had to Happen (1997)
Walk Between the Raindrops (1998)
Saint Mary of the Woods (2002)
Live in Aught-Three (2004)
Childish Things (2005)
Best of the Sugar Hill Years (2007)
Just Us Kids (2008)
Live in Europe (2009)
Complicated Game (2015)
The Horses and the Hounds (2021)