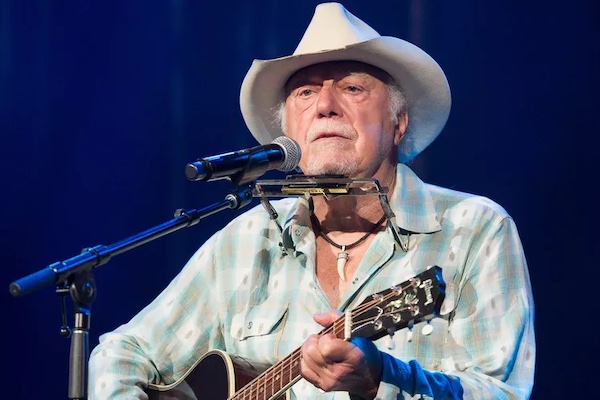 Jerry Jeff Walker (March 16, 1942 – October 23, 2020) is an American country music singer-songwriter. He is best known for writing "Mr. Bojangles".
All Country & Folk Events
Total: 1
Gypsy Songman - The Music of Jerry Jeff Walker
Gruene Hall
—
New Braunfels

,

TX
Get Tickets
Started at $64
Buyer Guarantee
Same tickets as you ordered, or better

Tickets will arrive before the event

Tickets will be valid for entry

Refunds for canceled events
Read Our Full Guarantee
About Jerry Jeff Walker
Early Life
Jerry Jeff Walker was born Ronald Clyde Crosby in Oneonta, New York, on March 16, 1942. His mother, Alma (Conrow), was a housewife, and his father, Mel, was a sports referee and bartender. The Tones, featuring Walker on vocals and guitar, were popular in the early 1950s in the Oneonta area. The band performed a mix of folk and rock music.
After high school, Walker enlisted in the United States Army and served in Germany for two years. When he returned to the U.S., he drifted around for a while, eventually landing in Austin, Texas. It was there that Walker began to pursue his musical career in earnest, playing in various local clubs and honing his skills as a songwriter.
Career
In the late-1960s, Walker met and befriended country singer-songwriter, Bob Bruno. The two founded a band called Circus Maximus, which briefly enjoyed some success in the Austin area. Bruno and Walker parted ways, Walker resumed his solo career. In 1968, he recorded the seminal album, Mr. Bojangles. The album's title track, "Mr. Bojangles," would become one of Walker's most well-known and beloved songs. In the early 1970s, Walker relocated to Austin, Texas, where he continued to write and perform his own brand of country music. He released a string of successful albums throughout the decade, including 1973's Viva Terlingua and 1975's Ridin' High. Walker's popularity soared in the late 1970s with the release of his album, A Man Must Carry On. In the 1990s, Walker continued to enjoy success with his albums, Navajo Rug and Hill Country Rain. He also continued to tour extensively, performing at festivals and venues all over the world. Walker's most recent album, It's About Time, was released in 2018.
Discography
Circus Maximus (1967)
Neverland Revisited (1968)
Mr. Bojangles (1968)
Driftin' Way of Life (1969)
Five Years Gone (1970)
Bein' Free (1970)
Jerry Jeff Walker (1972)
Viva Terlingua (1973)
Walker's Collectibles (1974)
Ridin' High (1975)
It's a Good Night for Singin' (1976)
A Man Must Carry On (1977)
Contrary to Ordinary (1978)
Jerry Jeff (1978)
Too Old to Change (1979)
The Best of JJW (1980)
Reunion (1981)
Cowjazz (1982)
Gypsy Songman DoLP (1987)
Gypsy Songman (1987)
Live at Gruene Hall (1989)
Navajo Rug (1991)
Great Gonzos (1991)
Hill Country Rain (1992)
Viva Luckenbach (1994)
Christmas Gonzo Style (1994)
Night After Night (1995)
Scamp (1996)
Cowboy Boots & Bathing Suits (1998)
Lone Wolf: Elektra Sessions (1998)
Best of the Vanguard Years (1999)
Gypsy Songman: A Life in Song (1999)
Gonzo Stew (2001)
Jerry Jeff Walker: Ultimate Collection (2001)
Jerry Jeff Jazz (2003)
The One and Only (2004)
Moon Child (2009)
It's About Time (2018)