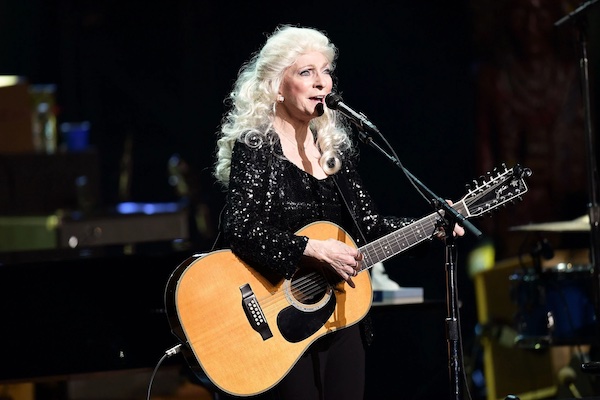 Judith Marjorie Collins, known professionally as Judy Collins, is one of America's most treasured artists. A singer-songwriter, guitarist, and pianist, she is known for her beautiful voice and her ability to translate emotion into the song.
All Country & Folk Events
Total: 17
Coach House - Capistrano
—
San Juan Capistrano

,

CA
Get Tickets
Started at $79
Fletcher Opera Theater At Martin Marietta Center for the Performing Arts
—
Raleigh

,

NC
Get Tickets
Started at $69
Diana Wortham Theatre
—
Asheville

,

NC
Get Tickets
Started at $114
Anderson Theater At Cincinnati Memorial Hall
—
Cincinnati

,

OH
Get Tickets
Started at $77
Southern Theatre
—
Columbus

,

OH
Get Tickets
Started at $97
Sheldon Concert Hall
—
St. Louis

,

MO
Get Tickets
Started at $55
Academy of Music Theatre - MA
—
Northampton

,

MA
Get Tickets
Started at $84
Blue Note Summer Sessions at Meritage Resort
—
Napa

,

CA
Get Tickets
Started at $110
Smith Opera House
—
Geneva

,

NY
Get Tickets
Started at $75
Get Tickets
Started at $68
Golden State Theatre
—
Monterey

,

CA
Get Tickets
Started at $70
Soreng Theater at Hult Center For The Performing Arts
—
Eugene

,

OR
Get Tickets
Started at $121
Plymouth Memorial Hall
—
Plymouth

,

MA
Get Tickets
Started at $93
Nashua Center for the Arts
—
Nashua

,

NH
Get Tickets
Started at $69
The Ridgefield Playhouse
—
Ridgefield

,

CT
Get Tickets
Started at $99
Fargo Theatre
—
Fargo

,

ND
Get Tickets
Started at $88
San Diego Symphony Orchestra: Judy Collins & Madeleine Peyroux
The Rady Shell at Jacobs Park
—
San Diego

,

CA
Get Tickets
Started at $95
Buyer Guarantee
Same tickets as you ordered, or better

Tickets will arrive before the event

Tickets will be valid for entry

Refunds for canceled events
Read Our Full Guarantee
About Judy Collins
Personal Life
Judy was born in Seattle, Washington on May 1, 1939, to Chuck and Dorothy Collins. Judy's father was a blind singer and radio DJ. She has five younger siblings.
In 1958, Collins married Peter Taylor, with whom she had a son, Clark. The marriage didn't last, and the two divorced in 1965. Since 1978 Collins was in a relationship with Louis Nelson. In 1996, Collins married Louis Nelson.
Collins was discovered to have tuberculosis in 1962. She was admitted to a hospital for six months and recuperated at a sanatorium. Collins had problems with alcohol and drugs throughout her life. In 1967, she entered a detoxification center to kick her heroin addiction. She later wrote about her experiences in the book "Sanity and Grace: A Journey of Suicide, Survival, and Strength" (2003).
Collins has battled bulimia nervosa, an eating disorder, since the early 1970s. In a 1983 interview with Redbook magazine, she said: "It's a terrible thing, very self-destructive. I used to throw up all the time after meals. It's something you live with for the rest of your life."
In 1992, Collins' only child, son Clark Thomas Taylor, died by suicide at the age of 33. He had been struggling with depression and addiction.
Career
Judy Collins began her musical career in the early 1960s as a folksinger in New York City's Greenwich Village. She released her first album, A Maid of Constant Sorrow, in 1961. The album was a critical and commercial success, and it established Collins as a rising star in the folk music scene. She followed up with several more successful albums, including In My Life (1966), Wildflowers (1967), and Who Knows Where the Time Goes (1968).
Collins' career reached new heights in the 1970s with the release of several hit singles, including "Send in the Clowns" and " Nobody." These songs helped Collins to crossover into the pop music world, and she became a household name. She continued to release successful albums throughout the 1970s and 1980s, including Judith (1975), Hard Times for Lovers (1979) and Running for My Life (1980).
In the 1990s and 2000s, Collins continued to perform and record music, although at a slower pace than in her earlier years. She released several more albums, including Strangers Again (2015) and Everybody Knows (2017).
Collins' career has spanned more than five decades, and she shows no signs of slowing down. She continues to tour and perform regularly, and her latest album, Winter Stories, was released in 2019. Judy Collins is a true legend of the folk music world, and her contributions to the genre are undeniable.
Collins is also an accomplished author, having written several books including an autobiography, Singing Lessons (1998), and a memoir, Sweet Judy Blue Eyes: My Life in Music (2010). She has been awarded Grammy Awards, induction into the Colorado Women's Hall of Fame, and received a Lifetime Achievement Award at their 2005 Honors & Awards ceremony.
Discography
1961-A Maid of Constant Sorrow
1962-Golden Apples of the Sun
1963-Judy Collins 3
1965-Fifth Album
1966-In My Life (Gold)
1967-Wildflowers (Gold)
1968-Who Knows Where the Time Goes (Gold)
1970-Whales & Nightingales (Gold)
1973-True Stories and Other Dreams
1975-Judith (Platinum)
1976-Bread and Roses
1979-Hard Times for Lovers
1980-Running for My Life
1982-Times of Our Lives
1984-Home Again
1985-Amazing Grace
1987-Trust Your Heart
1990-Fires of Eden
1990-Baby's Bedtime
1990-Baby's Morningtime
1993-Judy Sings Dylan… Just Like a Woman
1995-Shameless
1995-Voices
1998-Both Sides Now
1999-Classic Broadway
2004-Judy Collins Sings Leonard Cohen: Democracy
2005-Portrait of an American Girl
2007-Judy Collins Sings Lennon and McCartney
2010-Paradise
2011-Bohemian
2015-Strangers Again
2016-Silver Skies Blue
2017-A Love Letter To Sondheim
2017-Everybody Knows
2019-Winter Stories
2022-Spellbound