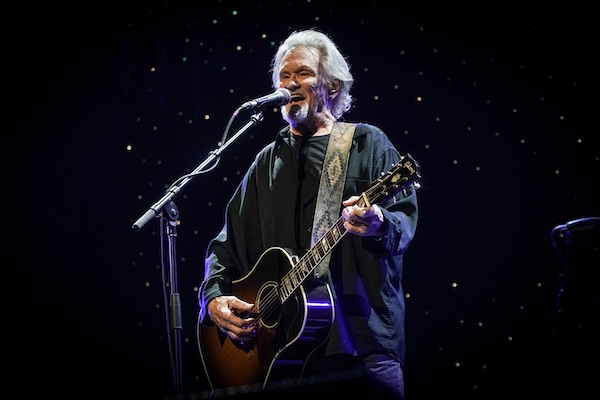 Kristoffer Kristofferson (born June 22, 1936) is an American singer-songwriter and actor. He is known for writing and performing such hits as "Me and Bobby McGee", "For the Good Times", "Sunday Mornin' Comin' Down", and "Help Me Make It Through the Night". In 1985, Kristofferson teamed up with Waylon Jennings, Willie Nelson, and Johnny Cash to form the band The Highwaymen.
All Country & Folk Events
Buyer Guarantee
Same tickets as you ordered, or better

Tickets will arrive before the event

Tickets will be valid for entry

Refunds for canceled events
Read Our Full Guarantee
About Kris Kristofferson
Early Life
Kristoffer Kristofferson was born in Brownsville, Texas, to Lars Henry Kristofferson (1905-1988), a U.S. Army Air Corps officer (and later a career military man), and Mary Ann (née Ashbrook) (1908-1997), a secretary. His paternal grandparents emigrated from Sweden, while his maternal grandparents were of English ancestry. Kristofferson has an older sister, Judy, and a younger brother, John. He attended San Mateo High School in San Mateo, California, and graduated from Pomona College in Claremont, California with a B.A. in literature.
After graduating, Kristofferson joined the U.S. Army, serving in West Germany as a helicopter pilot during the early 1960s.  He was discharged in 1965.
Personal Life
Kristofferson was married to his first wife, Fran Beirne (m. 1961–1969), from 1961 until their divorce in 1969. In 1973, Kristofferson married Rita Coolidge, with whom he collaborated on a number of songs. The couple divorced in 1980. In 1983, Kristofferson married Lisa Meyers.
Kristofferson has had several health issues in recent years. In 2004, it was revealed that he was suffering from Lyme disease, which he contracted in 2002.
Career
After his discharge from the Army, Kristofferson moved to Nashville, where he worked as a janitor and a security guard at the Columbia Recording Studios, and also as a commercial helicopter pilot. He began to focus on his songwriting, and in 1967 had his first major hit with "Me and Bobby McGee", which was recorded by Janis Joplin. Kristofferson's success as a songwriter continued through the 1970s, as he wrote such hits as "Help Me Make It Through the Night", "Sunday Mornin' Comin' Down", and "For the Good Times".
In 1971, Kristofferson made his acting debut in the film The Last Movie. He went on to star in several more films throughout the 1970s and 1980s, including A Star Is Born (1976), Heaven's Gate (1980), and Blade (1998). Kristofferson also continued to write and record music throughout his career, releasing more than 30 albums. His work as a recording artist and songwriter earned him several Grammy Awards, including the Grammy Lifetime Achievement Award in 2014.
Discography
The 1970s
Kristofferson
The Silver Tongued Devil and I
Border Lord
Jesus Was a Capricorn
Spooky Lady's Sideshow
Who's to Bless and Who's to Blame
Surreal Thing
Easter Island
Shake Hands with the Devil
The 1980s and 1990s
To the Bone
Repossessed
Third World Warrior
A Moment of Forever
The Austin Sessions
In the 2000s and 2010s
This Old Road
Closer to the Bone
Feeling Mortal
The Cedar Creek Sessions
Filmography
The Last Movie (1971)
Cisco Pike (1972)
The Gospel Road: A Story of Jesus (1973)
Pat Garrett and Billy the Kid (1973)
Blume in Love (1973)
Bring Me the Head of Alfredo Garcia (1974)
Alice Doesn't Live Here Anymore (1974)
The Sailor Who Fell from Grace with the Sea (1976)
Vigilante Force (1976)
A Star Is Born (1976)
Semi-Tough (1977)
Convoy (1978)
Heaven's Gate (1980)
Rollover (1981)
The Last Horror Film (1982)
Flashpoint (1984)
Songwriter (1984)
Trouble in Mind (1985)
Big Top Pee-wee (1988)
Millennium (1989)
Welcome Home (1989)
Sandino (1990)
Night of the Cyclone (1991)
Original Intent (1992)
No Place to Hide (1993)
Paper Hearts (1993)
Knights (1993)
Pharaoh's Army (1995)
Big Dreams and Broken Hearts: The Dottie West Story (1995)
Lone Star (1996)
Fire Down Below (1997)
Girls' Night (1998)
Blade (1998)
Dance with Me (1998)
A Soldier's Daughter Never Cries (1998)
The Land Before Time VI: The Secret of Saurus Rock (1998)
Two for Texas (1998)
Payback (1999)
Molokai: The Story of Father Damien (1999)
Limbo (1999)
The Joyriders (1999)
Comanche (2000)
Planet of the Apes (2001)
Chelsea Walls (2001)
Wooly Boys (2001)
D-Tox (2002)
Blade II (2002)
Where the Red Fern Grows (2003)
Silver City (2004)
Forever Is a Long, Long Time (2004)
Blade: Trinity (2004)
The Jacket (2005)
The Wendell Baker Story (2005)
Dreamer (2005)
Brats: Our Journey Home (2006)
Disappearances (2006)
Fast Food Nation (2006)
Room 10 (2006)
Payback: Straight Up (2006)
Requiem for Billy the Kid (2006)
Crossing the Heart (2007)
I'm Not There (2007)
Jump Out Boys (2008)
Snow Buddies (2008)
John Rich: Shuttin' Detroit Down (2009)
He's Just Not That Into You (2009)
Powder Blue (2009)
For Sale by Owner (2009)
Bloodworth (2010)
The Last Rites of Ransom Pride (2010)
Yohan: The Child Wanderer' (2010)
Dolphin Tale (2011)
The Greening of Whitney Brown (2011)
Joyful Noise (2012)
Deadfall (2012)
The Motel Life (2012)
Angels Sing (2013)
Midnight Stallion (2013)
San Patricios (2014)
Dolphin Tale 2 (2014)
7 Minutes (2014)
The Winding Stream: The Carters, the Cashes and the Course of Country Music (2014)
Texas Rising (2015)
Traded (2016)
The Red Maple Leaf (2016)
Hickok (2017)
The Star (2017)
Abilene (2017)
Blaze (2018)