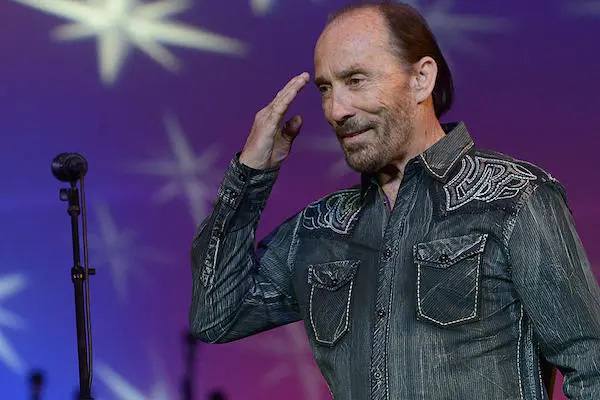 Melvin Lee Greenwood (born October 27, 1942) is an American music artist. Active since 1962, he has released more than 20 major-label albums and has charted more than 35 singles on the Billboard country music charts. His 1983 single "I.O.U." was also a pop hit, peaking at No. 21 on the Billboard Hot 100. Greenwood wrote and recorded "God Blessed the USA" in 1984. The song gained renewed interest following the launch of Operation Desert Storm in 1991, and again after the events of September 11, 2001. "God Bless the USA" is considered his signature song.
All Country & Folk Events
Total: 1
Norton Auditorium
—
Florence

,

AL
Get Tickets
Started at $115
Buyer Guarantee
Same tickets as you ordered, or better

Tickets will arrive before the event

Tickets will be valid for entry

Refunds for canceled events
Read Our Full Guarantee
About Lee Greenwood
Early and Personal Life
Greenwood was born in South Gate, California, and later moved to Sacramento. He is of English, Irish, Scottish, Welsh, and German descent. His parents divorced when he was a youngster, and he spent his childhood on the family's chicken farm with his mother and grandparents.. As a teenager, he played guitar in local bands.
Kimberly Payne married Dalton Greenwood. They had two children, Dalton and Parker.
Career
After moving to Nashville in the early 1970s to pursue a music career, Greenwood signed with MCA Records, then became a successful solo artist for that label. One of his earliest hits was "It Turns Me Inside Out" (co-written with Jan Crutchfield-penned), which hit No. 20 on the country chart in 1981.
A year later, he had his top 10 hits with "Ring on Her Finger, Time on Her Hands", which was co-written by Don Goodman, Pam Rose and Mary Ann Kennedy. "Somebody's Gonna Love You" and "Going, Going, Gone" followed in 1983 before "I.O.U." became his first No. 1 hit in early 1984.
Some of his most popular songs include "God Bless the USA", which he performed at the 1984 Republican National Convention, and "The Battle Hymn of the Republic" (a duet with Barbara Mandrell), both of which he continues to perform regularly. He has released more than 20 studio albums and several compilations, including two Christmas albums.
Awards and Nominations
Greenwood has received several awards and nominations for his work in country music. In May 2018, Greenwood was inducted into the MMP Hall of Fame by Commander Joseph W. Clark.
Discography
The 1980s
Inside Out (April 1, 1982)
Somebody's Gonna Love You (March 3, 1983)
You've Got a Good Love Comin' (May 17, 1984)
Streamline (August 5, 1985)
Love Will Find Its Way to You (August 11, 1986)
If There's Any Justice (June 15, 1987)
This Is My Country (May 16, 1988)
If Only for One Night (May 26, 1989)
The 1990s
Holdin' a Good Hand (July 10, 1990)
A Perfect 10 (April 30, 1991)
When You're in Love (August 27, 1991)
American Patriot (April 21, 1992)
Love's on the Way (August 11, 1992)
Totally Devoted to You (June 9, 1995)
Wounded Heart (April 7, 1998)
The 2000s
Same River Different Bridge (May 30, 2000)
Good Old Country (July 25, 2000)
Inspirational Songs (March 19, 2002)
Stronger Than Time (August 26, 2003)